Last week we brought the the great competition from Mr Kipling to win a wedding makeover, for couples getting married the same weekend as the Royals. Now we can tell you about the new limited edition range of Royal Wedding cakes that they launched yesterday!
We have had the pleasure of tasting them in the office and we think they're delicious! If you want to get your hands on them get down to Asda today, where they'll be on sale unitl the 16th May.
The wedding of the year is fast approaching, providing the perfect excuse to celebrate. However you're planning on celebrating the big day. Mr Kipling has got you covered with it's limited edition range of cakes, especiallu made for the Royal Wedding on the 19th May.
To help you get in the wedding spirit, Mr Kipling has created Mr Kipling Bridal Fancies. These bite sized beauties are fit for a queen and a perfect treat to enjoy whilst watching the celebrations unfold this May. A bridal take on the much-loved French fancies, these light and fluffy delights contain delicious vanilla sponge covered in a smooth, pure white fondant - perfect for celebrating a wedding!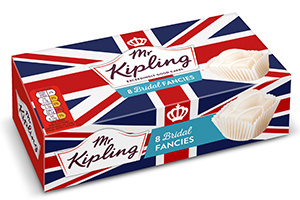 Some of our Mr Kipling favourites have also had a makeover in time for the Royal Wedding. Keep an eye out for Mr Kipling Princely Pies and Mr Kipling Wedding Whirls within the range. Whether you are having a street party, a picnic or a midday treat, these classics made for the occasion.
The following products will be available exclusively in Asda from 26nd April - 16th May.
Prices for the Mr Kipling Royal Wedding range
Bridal Fancies £1.00
Princely Pies (was Apple Pies) £1.00
Wedding Whirls (was Viennesse Whirls) £1.00
For more information on Mr Kiplings cakes and products visit here.
We hope you love them just as much as we did!