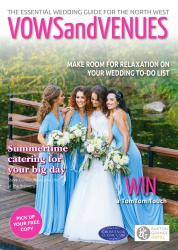 Welcome to Vows and Venues magazine – the essential guide to planning the perfect wedding from inception to completion. We want to showcase the best venues, independent businesses and wedding services the North West has to offer the discerning bride and groom. Vows and Venues is a 'must read' for any bride-to-be or wedding planner, providing them with the latest information to help plan the big day.

Each edition of Vows and Venues is available from selected branches of Sainsburys and is also distributed at wedding fairs. It is delivered to individual subscribers, too. All issues are available to read online for a full 12 month period from launch date. A4 size, perfect bound, full-colour glossy. All postal distribution handled by Royal Mail *.
* Royal Mail Cruciform © and Trade Mark of Royal Mail Group Ltd Reproduced by kind permission of Royal Mail Group Ltd All rights reserved. No part of Royal Mail Cruciform may be copied, issued, downloaded, communicated or otherwise used without the prior written permission of Royal Mail.
For advertising rates please contact:
Rachel Morton 
Tel: 01257 267677. Email: vowsandvenues@outlook.com
GDPR Compliant
When booking advertising always remember 'repetition is recognition'.
Familiarity = affection = trust + loyalty to your brand