From travel-inspired pieces to personalised hearts, there is something for every happy couple in the new cake topper collection from luxury wedding stationers norma&dorothy. 
Taking inspiration from the natural world, the extensive 57-strong collection is perfectly designed to suit a wide range of wedding styles, featuring everything from lush botanicals and woodland animals as well as contemporary geometrics. 
norma&dorothy creative designer Grace Sherriff said: "Couples put so much time and thought into choosing the theme of their wedding, so not surprisingly they want to be able to see that theme throughout their big day, as well as the build-up.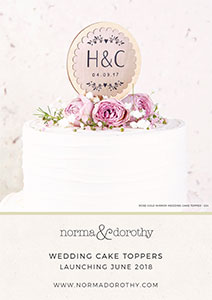 "Adding a cake topper collection was the next natural step. It means the centrepiece of the wedding celebrations perfectly complements the rest of the couple's wedding stationery."
The cake toppers incorporate modern typefaces with trend-led colours and finishes for a beautiful collection.