Finding the perfect suit for your big day can be a tough task, especially when faced with the huge range of styles and colours available at retail and specialist stores. Many people look to the high street for their suits, but the hours of trekking around can often prove fruitless due to limited design ranges and one-size-fits-all cuts that just don't quite match your build.
If this sounds familiar, then it might be time you considered investing your time and money into a tailored suit that will give you a lot more freedom in your design and fitting choices.
Read on to find out how to you should go about ordering a customised suit that will help you to look great and feel comfortable when the time comes to exchange your vows.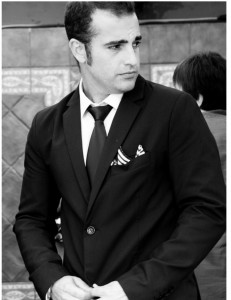 Mario Antonio Pena Zapatería - licence
What kind of custom suit do you need?
There are two kinds of tailored suit: bespoke and made-to-measure. While both involve having your measurements taken and alterations being made to accommodate them, there are major differences between the two. A bespoke suit is made from scratch, with an exact pattern being made with your measurements. This pattern is then used to cut out material for a totally unique cut that will match your physique perfectly. A made-to-measure suit is manufactured from a stock template that is based on the average shape of a man. The suit will be altered to suit your own measurements, but the general fit will be based on the pre-made template. 
Both options allow you to have a custom suit that will fit you much better than the standard high-street alternative, but each have their own strengths and weaknesses. A completely bespoke suit will provide you with the very best fit, but will most likely be the most expensive option available. A made-to-measure outfit will provide you with an improved fit, but not to the standards of a bespoke suit. It will also likely occupy a price bracket somewhere between a high street and bespoke choice.
To order a bespoke suit you will have to find a good tailor in your local area. You may already have one in mind, but if not you can try asking around or doing some internet or social media research. For a made-to-measure option, there are many specialist stores that can cater to your needs. One of our favourites, Jules B, offers an excellent service that combines premium-quality materials with expert craftsmanship, for a great tailoring experience. 
Material options
This is the part of ordering your custom suit that can prove to be expensive, depending on your tastes and budget. Your tailor will probably ask you about this near the beginning of your consultation, and the range of materials on offer will differ from store to store. 
As a general rule, you should avoid man-made materials as these are of lesser quality to naturally spun materials. There is a good chance that your tailor may not even provide these synthetic fabrics as an option. The higher the quality of the material that you select, the higher the total cost of your suit will be. If you are working to a particular budget, try to find a nice balance between quality and price. D'Marge has complied an extensive guide to suit fabrics with information and guidance for each one. Use it to learn about the various materials available before heading out to the tailor.
Suit style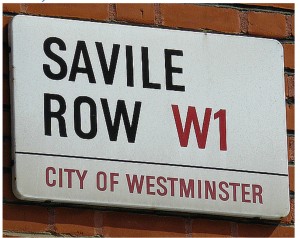 ©-Mike-Fleming---licence
A big advantage of ordering a tailored suit is the numerous design choices you can make yourself. These can range from the shape of the pockets to the number of buttons, and each can be changed to exactly how you would like it. Made-to-measure suits will often have less flexibility, while bespoke suits have virtually endless possibilities. 
However, bespoke tailors will often have their own style that will affect what your suit looks like when finished. For example, Savile Row tailors usually favour square-cut bodies with rolled shoulders. This is something you should take into account when choosing a tailor, as it could dramatically alter the design you envision. 
If you are looking to stay on trend with your suit style, take a look at our 2016 trends in bridal and groomswear for some inspiration for your wedding.
How much will it cost?
This will entirely depend on your budget and what type of suit you have decided to order. The more distinguished the tailor that you go to, the more you are likely to pay. If you go to a highly respected tailor, you can expect to pay more for their reputation and expertise, for example a bespoke Savile Row suit can cost more than £2,000. 
You can save money by opting for a made-to-measure suit from a high-street store, with prices starting at around £300.  This is an attractive option as it is a great way of coming in under budget and still looking great. As long as you don't expect the same level of detail and customisation options for a made-to-measure store you can have just as good of an experience. There are plenty of choices in-between these two options that can cater for mid-range budgets — just do some pricing before you go ahead.
If you follow our advice, you will be able to successfully order your own customised suit for your wedding. Having some knowledge of the ordering process before committing will stand you in the best stead for getting the suit that is just right for you.