A New Forest wedding venue is offering one lucky couple the chance to win a free winter wedding – provided they're willing to sing for it.
You've likely heard of Marryoke, where wedding guests singalong to a tune, whilst being filmed for the wedding video? Well, in this instance, a luxury venue in Hampshire has taken it one step further; inviting prospective newlyweds to submit a Marryoke entry ahead of their nuptials – with an entirely free wedding the prize.
To mark its 1,000th wedding, Balmer Lawn Hotel & Spa is offering wannabe newlyweds the chance to win a £5,000 winter wedding – which includes catering for 50 people; covering a 3-course meal, a glass of wine per person, tea and coffee, evening buffet, as well as free accommodation for the bride and groom on the night, along with a wedding video.
Michael Clitheroe, General Manager at Balmer Lawn said: "When we realised we were coming up to our 1,000th wedding, we thought 'wow' we really should do something to mark the occasion. Wanting to make it fun and a little bit different, we thought we'd look to involve prospective brides and grooms too. With a little inspiration, we hit on a Marryoke competition as an idea…making a free winter wedding the incentive!"
Michael continued: "At this stage, we'd like to point out we're not expecting a duet from Pavarotti and Adele. Far from it! In the best traditions of karaoke, even if you're tone deaf, we'll take enthusiasm and choreography into consideration. The more creative the better, with bonus points for getting your family and friends involved!"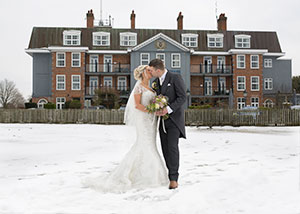 The competition is now live, and interested entrants are invited to submit their entries via the Balmer Lawn website, along with three reasons why they should be the deserving couple and their ideal date. The deadline for entries is the 30th September. From here a top 10 will be determined, which will then open to a public vote to establish a top three; with the overall winner determined by an in-house judging panel at Balmer Lawn.
The two entries in 2nd and 3rd spot will be offered a £1,000 discount off their wedding – should they book with Balmer Lawn for 2020.
Michael elaborated on what the hotel expects from entries: "Couples are welcome to mime their entry over well-known songs, sing it themselves (bonus points) or even write their own version of a song letting us know how much they want to get married at Balmer Lawn (for even more bonus points)."
Michael concluded: "Everyone at Balmer Lawn loves a good wedding; especially a fun one. We're hoping the Marryoke competition will inject some additional enthusiasm into proceedings, making it a day to remember – before the winning couple have even married! We can't wait to see what entries come in."
Terms and conditions apply, which can be found in detail on the Balmer Lawn website here, as well as information on what the prize includes:http://www.blhweddings.co.uk/2019-win-a-wedding.
For more information about Balmer Lawn please visit the website https://www.balmerlawnhotel.com/