When you take your waistcoat off, make sure you can't see any shirt between the waistcoat and your trousers as it ruins the clean look. Raise your trousers higher! 
Bring an extra shirt of the same fabric, just in case. This is huge. If the one you're wearing is double cuff, bring an extra single cuff. On a high-pressure day like this, anything could happen; from forgetting your cufflinks, to a red wine spillage or even forgetting your shirt altogether! To be prepared is to be relaxed.
As the day goes on, your tie has a tendency to fall down. Every 10 minutes or so make it a habit to pull the tail up and tighten your tie. The last thing you want is a wonky tie in the photos you will treasure forever. Of course, by the end of the first dance it's a given that ties will be off as the after party kicks off!
Wedding Suits
Choosing the style that works for you and your personality is so important. These choices are not exhaustive but they are the ones looking popular for 2019.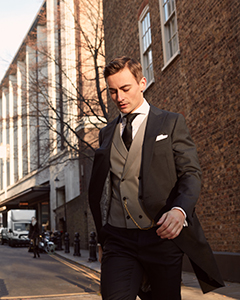 The Morning Suit
It is the classic, safe choice for those who appreciate tradition. But don't despair- safe doesn't have to mean boring. Take David Beckham at the Royal Wedding for instance- the perfect example of classic cool simplicity. With a morning suit the rules are strict and it's hard to do something that has never been done before, so the trick to nailing the look is fit and cut! Lapels pointed toward the shoulders make shoulders look broader and draw the eye towards your waist, emphasising the v- shape or creating the illusion of one 
 The Waistcoats on  are also lapelled and the best look is consistency between them. On the back on the back of the waistcoat is the little buckle. Nobody remembers that it works! Pull it in to tighten it to fit properly around your stomach, keep the tailored look when you love the jacket.
For bigger guys, slightly wider lapels and tail coat will look proportionate .
Tuxedo
This is reserved for the guy looking to be sharp and showcase a timeless elegance. It's a different breed of classic to the morning suit. You've watched Bond growing up, found your Bond girl and now you're ready to take on the world. You want to give her the spotlight but still warrant a second look as you walk past. To bring some flair to your tuxedos, opt for unique patterns on the fabric of the blazer to showcase your individual style. The fabric can be as out there as you want, but paisley and floral have been a nice way, but always pair wih black trousers o keep it classic. of It's commonly paired with a black trouser and bow tie. Top tip for the footwear- Black satin oxfords/derby's or slippers make the perfect pared back cool accessory to this style. 
Wih the shirt, you will want the buttons covered. Cover the palcket.  if you are not wearing studs on the butons, which will jazz it up. For an event like a wedding, feel free to veer away from the traditional matching of tuxed to studs.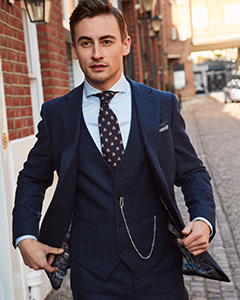 Tuxedos need an actual tuxedo shirt.
Three Piece suit or Two Piece suit
This style offers a broad remit for the gent that is 'fashion forward'. They can mix fabrics, colours, go for coloured ties and swanky pocket squares or play it safe and go for a 2 piece navy suit. People like to wear brown belts and brown shoes in summer with these, but try something different. Lose the belt and go for suit adjustors. Feel free to slip on ome loafers for a summer wedding. And aim for an oxblood brown as tan can be a tricky colour to get right. Get the trousers slightly higher and you can add fun socks or go with no socks.
Everyone goes for a three piece in winter but if you are going for one, the current trend is t go with a lower cut chest area with more buttons. This trend has definitely become boosted by southgate! A nice geometric .
Wearing a belt with a waistcoat is a no no as it creates an unsightly bump and upsets the silhouette. When you take photos it makes for an odd look!