Honeymoons allow newlyweds the opportunity to start off their new lives together in the most special of ways. Couples can get away from the crowds and pressures of everyday life and create special memories which will stay with them forever. Choosing the right destination is therefore an incredibly important decision. To lend a hand, travel agent Florida4Less has listed the top five most romantic places in Florida that are perfect for honeymooners looking to begin married life in style.
Honeymoon Island State Park
Four miles of clear, crisp beach with a 385 acre park - what more could you ask for? Surrounded by several other beaches, Honeymoon Island attracts lots of - you guessed it - honeymooners, along with cyclists and joggers to its trails, but that doesn't mean you can't find a secluded spot to find peace and calm. It's popular for a reason, with the park offering the best of both worlds - the typical oceanside bustle and the quiet beauty of a beach full of wildlife and serenity.
St. Augustine
Sitting on the northeast coast of Florida, St. Augustine is America's oldest and most historic city, making it perfect for sightseeing and soaking up culture with your loved one. This location caters for people of all interests, from walks in unspoiled nature, to learning about the area's fascinating history in living museums. You can eat in romantic candlelit windows at restaurants before climbing the 219 steps to the St. Augustine Lighthouse to soak up the incredible coastal view.
Lovers Key State Park, Fort Myers Beach
With wildlife, lagoons and four barrier islands, Lovers Key State Park is an idyllic and spotless paradise for couples to visit. Pick your spot and relax under the Floridian sun, or go swimming in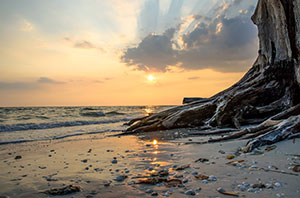 the cool waters of the Gulf of Mexico. The beach and island is perfect for cycling, enjoying a picnic and swimming, with canoes, paddle boats and kayaks available for hire. You can enjoy all of this surrounded by animals such as dolphins, birds and bald eagles - it really is a wildlife haven.
Naples Botanical Garden, Naples
Naples Botanical Garden offers beautiful landscapes for everyone who comes to admire it. You can enjoy nine stunning gardens and a 2.5 mile trail with your partner, featuring a butterfly house, interactive fountain and treehouse. It's perfect for a stroll around on a cool, quiet afternoon.
Dry Tortugas, Key West
Perfect for adventurous couples, this remote island is definitely one to visit. Accessible only by water, the Dry Tortugas are a collective of seven islands 70 miles west of Key West. Hop from island to island and snorkel together through clear waters and coral reefs, swimming between a historic fortress that covers across 16 acres - this location is sure to give you memories and views that will last a lifetime.
Jon Moulding, co-founder and director of Florida4Less, says: "Florida is well known for its stunning views and great weather, so it is automatically a great honeymoon location. Places like Honeymoon Island State Park and Lovers Key State Park are a must on a romantic trip to Florida. If you have the time, visit a couple of these destinations during your time here to take in as much of the culture as possible."