Most engaged couples opt to do a registry to make it easier for guests to buy them wedding gifts, but usually they consist of cliché products like a toaster oven or mixer. A wedding gift should be practical, but also celebrate the newlywed couple and their special day. Toast's wedding pint glass cuffsoffer the perfect balance of both everyday use and personalization. The wedding cuffs are a luxurious update to classic koozies that not only look and feel amazing, but also keeps fingers toasty while Bloody Marys stay chilled and mulled cider stays hot. 
Toast, a company based in Portland, Oregon, hand crafts each leather cuff in house. The company starts by swathing a heavyweight, premium-quality 16oz. pint glass in a laser sheath of gorgeous leather. Toast then hand-paints the leather edges and securely hand-stitches each one with a crosshatched detailing in complementary pigmented waxed thread. 
The wedding pint glass cuffs are available in ten luxurious and saturated colors of leather ranging from Cosmo pink to Scotch brown. You can choose their favorite colors, go off of their wedding theme or gift them cuffs in their favorite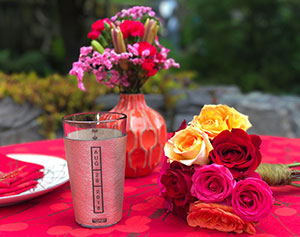 sports team's colors. 
Once you have the color choice down, the leather cuffs can be laser-engraved with one of Toast's six special wedding designs that showcase the newlywed couple's names and wedding date or you can gift a completely personalized gift by getting a custom design on it. Whether it's fun pet names, something related to how they met or an inside joke the couple has, Toast can deliver a one-of-a-kind gift that you'll be proud to hand over. 
The wedding leather pint glass cuffs start at $37.00 each and an additional $30 for a custom design. The cuffs are a high-quality, luxurious gift at an affordable price, so you can wow the couple without breaking the bank. 
If the newlywed couple is more into tech, Toast also makes gorgeous, eco-friendly wood and leather covers for a huge range of products including smartphones, tablets, laptops, gaming systems and smart home products. The real wood covers can also be laser-engraved with the newlywed couples names, wedding date or other fun design.
www.toastmade.com/products/pint-glasses-wedding-edition.html