If it's taken you two years to plan your wedding, get the dress right, squabble over the seating plan and spend two months choosing between pavlova or poached pears, you're going to want it to be immortalised by exactly the right person. These are the indelible records of a perfect day, so the wedding photographer has to be…well…perfect. So how do you pick the right one for you? We have spoken with Paul Clarke a professional photographer to get his top suggestions on choosing the right photographer for you.
11 things to consider when choosing your wedding photographer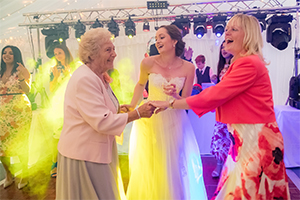 1. Always personality. Is this someone I feel comfortable with? Who will fit in without fuss or formality into my friends and family? Who could I imagine my mum giggling with, being able to make Uncle Frank shut up just for a few minutes? Who will bring out my mates' personalities (or maybe, hide them…..)
2. Meet them! At the least, on a video call, to judge what they're really like as a person, not just a professional.
3. Are they directive enough? Will they hide in the corner or take charge? Ideally you want a combination of quiet and discreet, but also someone who's ready to steer things if necessary.
4. Do you like their style? All photographers will have a style that they're known for – maybe a strong use of colour, or the ability to give a 'vintage' look to the pictures. But it's YOUR wedding, and if you have ideas on style, ask – a good photographer can adapt to that, and hopefully show you some examples to check they're on the right track. Oh, if they only have black and white pictures, ask to see colour! Black and white can be very attractive, but it can sometimes mean that colour skills aren't really there.
5. Make sure you see a full wedding example, not just the 30 greatest shots picked from their entire career. It's a lot easier to put just the greatest hits on their portfolio, but a good photographer has to produce hundreds of gorgeous shots all on the same day!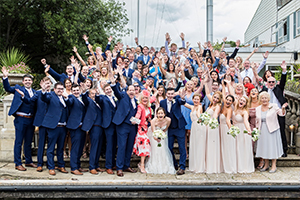 6. If it sounds too good to be true, it is. Be careful of upsells – there are some dodgy tactics out there. If the price seems very cheap, there'll probably be are all sorts of hidden charges, from control over how pics can be printed (at a steep price!) to trying to get you to buy cheesy musical slideshows that you never wanted.
7. Is your photographer bulletproof? Ask them about what happens if one bit of equipment fails – and how they plan for the unexpected. It doesn't matter how good the photographer is if they're not organised enough to cope with bad traffic on the way to the church.
8. Do they have good kit? It's not always true that the better the camera, the better the picture – a good photographer can work with anything – but it's usually a bad sign if a professional can't say their kit is up to date.
9. References. See if you can have a chat with a couple who've used the photographer before. It's a great way to find out about some of the softer things like behaviour, smartness and flexibility
10. Ask about an assistant. If you want the 'full service' from the start of bridal prep to the wild dancing, that can be 12 hours. Anyone trying to do all that alone is going to need some breaks, or will start to fade. Having a second shooter means that things like bridal beauty can be done really well, and that you can be sure nothing is missed over the day. (and not as expensive as you might think)
11. Teamwork. How do they deal with videographers, or Uncle Bob! (Uncle Bob is the wedding industry name for that enthusiastic hobby photographer relative who starts trying to take over...)
So there we are. Now you know how to snap up the best snapper. Ready - smile!
For more information on Paul Clarke the wedding photographer visit here.