Your wedding day is one of the most important days of your life. As a child growing up, we are bombarded with images and videos of what your wedding day should be – especially if you've spent your life watching Disney films. Those ideas have probably stuck with you, and when the time comes to plan your actual wedding, visions of Cinderella (and her gorgeous dress) may have made their way to the forefront of your mind. 
Having a Disney wedding can be an absolute fairy tale for brides and grooms that are huge Mickey Mouse fans, and let's be honest – there's nowhere on this planet that is as magical as Disney World. So why not get married in the 'happiest place on earth'? 
The Venue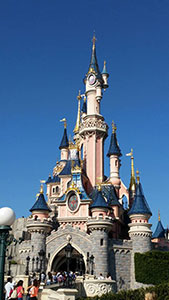 Disney world? Disney Land? Epcot? The Wedding Pavilion? The list goes on and on!
Whichever venue you choose is completely up to you, they all have their pros and cons, so you need to decide which one is most special to you, but for reference you can view all Disney's venues here. The venue will probably be one of the hardest decisions you'll have to make! Thankfully, the actual planning will be a lot easier as Disney is a self-proclaimed 'one-stop-shop' for all of your wedding day needs. There is no need to search for a florist, caterer, entertainment or transport as it's all offered in-house.
The Disney Wedding Planner
You've been granted three wishes by the genie and one of those wishes is a personal Disney Wedding Planner! 
When you decide to hold a Disney wedding, the first step is to be paired up with a Disney Wedding Consultant who will help you decide on the main details such as your wedding date, venue and estimated budget. You will then be paired with an official Disney Wedding Planner who will then work with their food and beverage, entertainment and floral specialists. It's just like having your own Fairy Godmother! The planner will handle everything – even if you live a magic carpet ride away, so you can enjoy your big day. 
The Price
The average cost of a wedding in the UK is around £25,000, which is a hefty sum of money (unless you're marrying Prince Charming himself). If you're looking to plan a Disney wedding, you'll be pleasantly surprised that it's probably not going to cost as much as that! 
Disney offer many different packages to suit your budget. The cheapest being the Memories Package at Disney World's Grand Floridian Resort & Spa. Prices start from $3,500, and includes up to four people (including the couple), a violinist, a limousine and a one hour session with a Disney photographer. 
If you're intending on splashing the cash, then there are premium packages available such as the Wishes Collection (prices start from $12,000) or you can get married inside The Magic Kingdom from $15,000.
As with all wedding packages, the prices will change the more guests you invite and the more you personalise your wedding.
Invite Mickey & Minnie
One of the best parts about having a Disney wedding is the ability to invite your favourite characters to witness your nuptials. Imagine Mickey Mouse walking you down the aisle, or Donald Duck as your ring-bearer – the possibilities are truly endless. 
Say "I Do" sooner
Depending on availability, a wedding at Disney World or Disney Land can be arranged in as little as three weeks! So if you're desperate to get married sooner rather than later, then Disney could be your best bet. 
The Perfect Dress
If you're planning on having a Disney wedding, then you need to make sure you have the perfect dress for the occasion. Bridal boutique Allure Bridals have recently teamed up with Disney to create a stunning gown range that replicates many of our favourite Disney princesses.
There are 16 styles in the collection which are inspired by Princess Aurora, Belle, Ariel, Jasmine, Cinderella, Pocahontas, Snow White, Rapunzel and Tiana! 
Prices for these dresses range from $1,200 to $2,500 for the standard collection, and up to $10,000 for the platinum collection. The only downside is you'll have to order them online as you will not find the dresses in UK stores.