Looking for that one thing to make your wedding day just a little bit more special? The perfect dress watches for grooms! It has become a bit of a tradition for the bride to gift her future husband a watch on their wedding day - Perfect for celebrating the next step of your relationship and momentous occasion. Your husband can wear it on the wedding day and every day after and whenever he looks down at his wrist, he'll think of you.
On your special day you should opt for a dress watch. Why? You want something to elevate his black-tie look and something that is thin enough to fit under a sleeve cuff. Therefore, all the larger chronographs or dive watches fall away. You are also looking to complement his look rather than overpower it. Plus, you'd like the watch to be classic enough to weather finicky changes in style trends and last a lifetime. It is "until death do us part" right? Longevity, class and sophistication are therefore three prerequisites the dress watch should embody.
Here a few do's and don'ts when it comes to picking the perfect dress watch for your man. A leather strap is deemed more traditional than a metal bracelet. Match the leather strap of the dress watch with the colour of his shoes and belt to ensure a unison overall look. The watch should sit underneath his shirt cuff. Keep the dial of the watch looking clean and simple looking. Don't go for a smartwatch. Is there anything less romantic than receiving a notification during the ceremony? We think not.
We've picked our two favourite dress watches for grooms.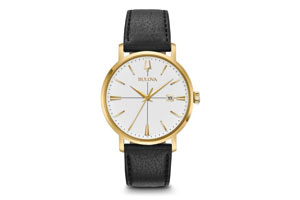 Bulova's 97B172 Classic Watch is the perfect choice for your loved one. Not only is it incredibly timeless it is also perfectly slim with a thickness of 8.35mm. The gold-tone accents and smooth grain black leather strap will look flawless on the groom's wrist.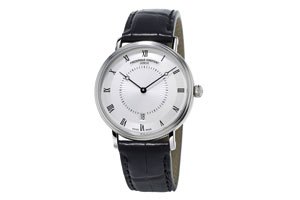 If you're looking for a beautiful classic steel timepiece then this Frederique Constant Slimline Classic Automatic (£1,660) is the one for you. This timepiece includes latest technology, while maintaining a successful, stylish and clean design. The Slimline Collection is a series of ultra-flat models with a thickness of just 3.6mm – perfect to wear under any shirt cuff. Treat your future husband to this accessible luxury timepiece which has been developed by passionate Swiss watchmakers in Geneva.
To view more dress watches for grooms from Frederique Constant visit here.