A wedding cake is most probably the most expensive cake a bride and groom will ever purchase. Therefore, a lot of thought normally goes into the process of choosing and deciding the design, flavour and all the little details that a wedding cake entails.
Faye Palmqvist. from Sweet Elements, a bespoke cake catering business based in Fulham and founded by Le Cordon Bleu–trained pastry chef, has shared her tips on what to consider when choosing your wedding cake.
Tips for choosing your wedding cake
CHOOSE YOUR DESIGN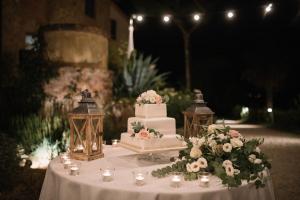 Choosing your cake design is the fun part. Although, it can also be overwhelming here are some tips to narrow down all the choices.
1. Match details from your wedding dress. For example, if your dress has lace, cake decorators can create sugar lace that can be added to the cake decorations.
2. Use your wedding theme as inspiration. Incorporate the colour themes, textures, flowers, and any little detail that will be used on the day.
3. Make it personal and less traditional. Choose something that you and your groom love and ask your cake designer to include it onto the cake. This could be anything you desire.
4. Seasonal theme - some brides like to take inspiration from the time of year they are getting married. For example, if you are getting married in the autumn, one would choose autumnal colours and leaves. A Christmas wedding might include a few festive details to be added onto the wedding cake.
5. There are so many wonderful wedding magazines, websites, and of course Pinterest to find a whole variety of inspiration and designs for your cake.
CAKE TASTING / MEETING YOUR CAKE DESIGNER
I highly recommend booking cake tastings with a minimum of three different bakeries / wedding cake suppliers. This allows you to taste a variety of flavours and view the workmanship of the cake designer. It is also a fun activity tasting loads of cake with your groom. Normally, a cake supplier will charge you a fee, if you choose to go with that particular supplier they would normally deduct the tasting fee from the total bill.
Many cake suppliers offer a wonderful selection of cake flavours as well as gluten-free options. If you choose to have more than one tier you can then mix and match flavours so that you have a selection of flavours to offer your guests.
During the tasting this is your opportunity to discuss the design and costs of wedding cakes.
DESSERT TABLES
Some couples opt for a dessert table. Not only does it give you more sweet options to offer your guests, it become a beautiful showpiece of pretty little desserts. It is a great way of incorporating different desserts if your guests suffer from any food allergies. You could choose, gluten-free, egg free, sugar-free dessert.
BUDGET
Wedding cakes are not cheap. There are many factors that determine the price of a wedding cake.
The number of portions you require, the design, number of tiers, the covering of the cake, sugar paste flowers versus fresh flowers and so onwards. Below are some tips on choosing your wedding cake according to your budget.
1. If you are having a small wedding and still want to have an impressively large cake, your cake designer can add polystyrene tiers to make up the number of additional tiers. This is a much cheaper option then having real cake tiers.
2. Handmade sugarpaste flowers are quite expensive as they require many hours of workmanship. A beautiful alternative is to use fresh flowers, which your florist can provide when you order your wedding flowers.
3. Buttercream versus Sugarpaste: It is cheaper to opt for a buttercream finish rather than sugar paste. A buttercream finish has a more rustic look and also could be made into a naked or semi-naked cake look. Whereas, a sugar paste covered cake has a more refined look.
4. Make your own cake: If you love baking why not make your own cake and then cover it with buttercream, fresh flowers, fruit/berries. You can also buy a large selection of ready made decorations that you can add to your cake.
WEATHER
It is important to think of the time of year you will be getting married. Unfortunately, the weather can have a detrimental effect on your cake if it's not transported or stored correctly. If you choose a buttercream finished cake during a very hot time of the year, the likelihood is that it could melt if it's on show for several hours. If the weather is very humid sugar paste can sweat. This will change the look of the cake. If the weather is cool or cold you wouldn't have any issue. If it's raining make sure your sugar paste covered cake does not get wet as it will leave water marks and melt away the sugar slightly. If heat is going to be an issue I suggest opting for a fruit cake or almond cake that is covered in marzipan and sugarpaste. You will have absolutely no issues on the day.
THE IMPORTANT STUFF
Book your cake as early as possible to avoid disappointment. Once all the wedding cake details are finalised, have your cake designer send you confirmation outlining all the details that need to be included. This sometimes could be a formal contract you need to sign and return to the cake supplier. Discuss delivery options large complex cakes take time to assemble and sometimes would need a team of people to make this possible. It's imported to discuss the delivery of your cake with your supplier. If you have any cake left over discuss with your cake supplier how to store the cake afterwards.
HAPPY CAKE PLANNING!!