Made in Valdobbiadene, in the heart of the Prosecco region in Northern Italy, Mionetto is Italy's favourite sparkling wine. This well-structured sparkling Prosecco stands out for its luminous straw yellow hue and for its emphatic yet stylish mousse. The bouquet is redolent of Golden Delicious apple, whilst the palate is appealingly marked by aromatic notes of honey, black liquorice, and acacia blossom.
Founded in 1887, Mionetto has been Italy's foremost producer of Prosecco wines for 130 years. The winemakers are dedicated to the traditional production methods that the area is famous for, using only the finest quality, delicate Glera grapes to produce a refreshing and lightly sparkling wine.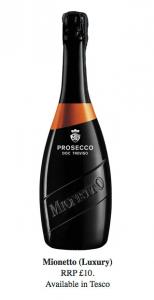 Highly adaptable, Mionetto can be paired with a versatile range of foods and in particular is a perfect match with grilled fish, autumnal salads or as an aperitif. So, whether you're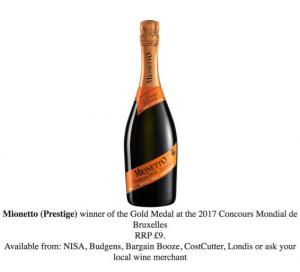 celebrating something special like a birthday or engagement, or want to make an everyday occasion truly sparkle, add a touch of Italian style with Mionetto. Simply pour into a chilled flute and enjoy, or you could add some hibiscus flowers for a simple yet sophisticated serve. 
Event Date:
Friday, July 21, 2017 - 14:30