Summer weddings are the perfect occasion to be brave, and go bold and bright with your outfit. At Slaters, we believe that standing out from the crowd is a good thing, and we give you all the tools to do so!
Whether you're feeling colourful and bright, or dark but bold, we've got the perfect suit to get you styled and ready for this summer's weddings.
Slaters' Collection of Colourful Suits - 
The Burgundy One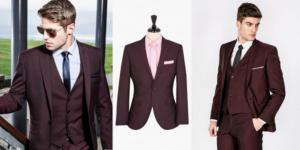 A dapper option for those wanting to brave some colour but keep things cool; this burgundy three piece slim fit suit. There's no need to be fearful of styling bold suits either, this burgundy suit looks great when paired with a white shirt and black tie, or be even braver and dress with a pink shirt and tie.
The Light Blue One
If you're after an especially summery look, this light blue suit is a great choice. You're guaranteed to stand out from the crowd due to the eye-catching colour, but still be comfortable thanks to the modern slim fit. This smart three-piece is perfect for British country weddings and sunny weddings abroad. This colour looks incredible paired with pastel coloured shirts and patterned ties.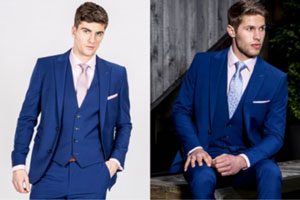 The Bright Blue One
It can be a tough decision when you want to brave a bold suit but you're not sure if it is right for the occasion, so our bright blue, skinny fit, three-piece suit from ONESIX5IVE is the perfect middle ground. A modern fit in a bright colour is guaranteed to turn heads, with grooms and wedding guests opting for these suits all year round. Choosing to style a vibrant shade of blue is the perfect way to make a trendy statement. Style as you would any other blue suit, brown brogues are a must and pink shirts look great.
Colour is the ultimate way to show confidence through style. It can be really easy to wear the look as either a groom, a member of the groom's party or even a wedding guest. 
If you don't feel bold enough to go all out with a colourful suit, accessories are a great way to add a splash of vibrancy and personality to an otherwise simple suit. 
Accessorising with Colour
Here you can see our top accessories for adding a pop of colour to your wedding look: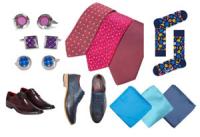 Smart Shoes and brogues are a quirky way to add a subtle pop of colour. So choose a subtly coloured pair of shoes that match the colour of your suit. 
The classic way to add colour however is with a tie or pocket square, most men will opt for this as it is an easy yet stylish way to compliment your look. The right coloured accessories can take a look from good to great.
If you're attending a summer wedding, we hope to see you sporting a colourful look from Slaters! If you do, be sure to share your pictures to our Twitter and Instagram, you'll find us @Slaters1973.