Start as you mean to go on and toast at your wedding with a quintessentially English wine from Bolney Wine Estate. With more brides opting for classic country barns and historical castles to hold their special day in, pairing the day with an award-winning wine from England suits better than any other.
There's a wine to fit every bride too – opt for a Bolney sparkling rosé to add a hue of blush to a wedding theme. Alternative brides can surprise guests and choose a bottle of sparkling red wine, a delicious and rich fizzy flavour.
English sparkling wines have boomed the past year, being dubbed as the newchampagne and prosecco, with many of them produced following the same traditional method used to produce them. Bolney Wine Estate, a family run vineyard in West Sussex has won numerous UK and international awards for their sparkling and still wines.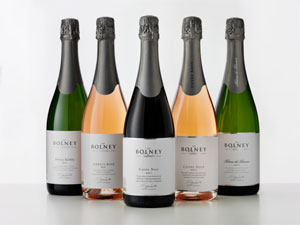 Choose from eight exceptional sparkling wines to celebrate married life:
Blanc de Blancs, £27.99
This stylish, 100% Chardonnay vintage sparkler is made in the traditional method with 2 and a half years lees ageing for added depth of flavour. Smooth and full-bodied, this wine has delicious yeasty undertones complemented by fresh citrus notes. 
Bolney Bubbly, £23.99
A simple, light and refreshing English sparkling wine. Very easy to drink with a charming elderflower creaminess.
Kew English Sparkling Wine, £31 and Kew English Sparkling Rosé
Bolney Wine Estate and the Royal Botanic Gardens, Kew, have combined their exceptional expertise to create a sparkling wine that evokes the fragrant sights and sounds of the Sussex countryside with each and every sip with a beautiful floral label.
The sparkling rosé is a seriously sophisticated wine that offers notes of raspberry and wild strawberry, with subtle savoury undertones adding complexity. The Bolney Kew sparkling white is a delightful sparkling wine with floral, zesty citrus fruit, honeysuckle and elderflower notes that finishes with just a hint of sweetness. Both wines are produced following the same traditional method as is used to produce Champagne, providing a luxurious, flavour-filled wine.
Cuvée Noir, £23.99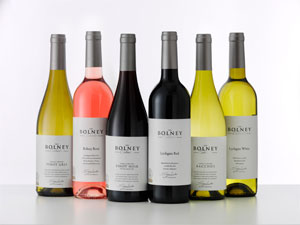 A unique, red sparkling wine which oozes style. Warm aromas of stone fruits and ripe blueberries lead to a wonderful creamy richness from the 18 months lees ageing and a lingering summer fruits palate with a hint of spice on the finish - almost like a summer pudding. Delicious! 
Cuvée Rosé, £26.99
A traditional method quality sparkling wine with a fine mousse and tightly beaded. On the nose, this wine has a touch of yeast with notes of raspberry and wild strawberry.
Eighteen Acre Rosé, £23.99
A vibrant, deep pink with elegant mousse in the glass. On the nose this wine expresses aromas of red fruits, particularly that of ripe strawberries and red cherries. These aromas are continued over to the palate with layers of complexity from the lees ageing, with a sweet spice character.
Sirrius Rosé, £22.99
Vintage, traditional method sparkling wine with wonderful strawberries and cream character, along with hints of vanilla and loganberries. This wine is made from Merlot and Chardonnay grapes.
For further information on the full Bolney Wine Estate portfolio visit www.bolneywineestate.com