Cheadle House is surrounded by beautifully landscaped gardens that offer a secluded and tranquil retreat from the City of Manchester during the summer. Nestled at the side of the lake, itis equipped with a graceful and elegant marquee. The stylish marquee comes complete with a decked porch area with a China hood and glass front. The versatile structure holds endless opportunities for a wide variety of summer Weddings and special events.
The Marquee is available in August 2019 & 2020 an elegant and modern marquee which can accommodate up to 200 guests perfect for a warm summer Wedding day. 
Bring up to 200 guests to celebrate an Asian wedding with us including your civil ceremony. Get exclusive access for your Jewish wedding, and relax as our experienced staff take care of any cultural and religious requirements you have. From same sex civil ceremonies to non-religious blessings, we love helping parties of all sizes and backgrounds celebrate!
Packages are available from as little as £10,000 packed with all of the ingredients you need to help create the most magical everlasting memories or you can simply just hire the Marquee from £2,000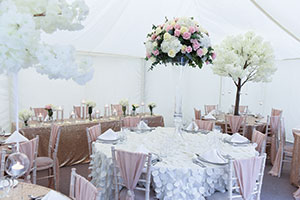 complete with Ivory linings, it offers a real blank canvas ready for you to add your own twist and make it your own arranging each and every detail just the way you have always envisaged. Of course one of the major advantages of a marquee is that you can pick and choose your themes and colours as you don't have to work with existing decors.  You can choose a modern style, classic, country, vintage…the list is endless. 
Don't worry about the details – we're here to help from start to finish. For all the latest tips on planning your wedding, including everything you need to know about ceremonies, the most popular first dances and top reception ideasHere it's the little details that make all the difference and our experienced wedding coordinator will help plan everything to perfection. Whether it's your reception, your civil ceremony, or both, we'll make sure your day is as individual, exciting and memorable as you have always imagined.