Do you love chocolate and want to include it in your wedding? Or, perhaps you are a guest who needs a wedding gift but are looking for something really different? 
Hooray! As it's World Chocolate we have just the thing…
Biscuiteers create wonderful, artistic hand iced chocolates and biscuits for an array of occasions, including engagement presents, wedding gifts and wedding favours.
Ideal for adding a personal touch, the medium (£35) and giant (£65) chocolate gift boxes and tins contain an assortment of dark orange ganache, praline crisp, dark raspberry ganache, salted caramel, mint ganache and hazelnut pralines which can be iced with your own choice of message to congratulate the happy couple.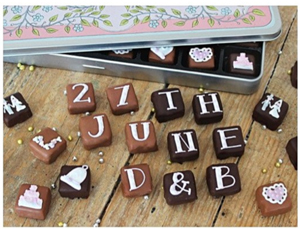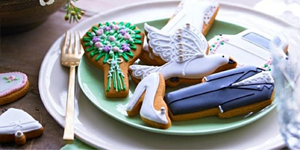 Orders can be placed online and posted straight to the gift receiver. Biscuiteers also has two beautiful venues in London where you can browse the range of chocolates and biscuits available, or discuss bespoke wedding favour orders such as replicating your venue, your wedding dress or your bouquet in too-good-to-eat, hand-iced biscuits.
Browse the range of edible wedding gifts and favours here: https://www.biscuiteers.com/send-a-gift/wedding-gifts