Freixenet are keeping wedding toasts cool this summer with their new ICE Rosé. The most recent addition to the Freixnet family, ICE Rosé has been uniquely designed to be poured over chunks of ice, with a purposely richer flavor to balance the chill.
Coming in a glossy white and pink bottle, the fizz would be a striking centre piece for any wedding. The perfect accompaniment to salads, duck dishes and fruity puddings, ICE Rosé can be the choice of refreshment for mains and deserts. 
Best served topped with crushed summer berries, the fizz offers fruity notes of strawberry and raspberry, and a hint of sweet spice. An alternative to the more traditional prosecco, rosé wine has undoubtedly become the most fashionable drink of the summer, marked by the first ever 'Rosé Festival' which took place in London only last month.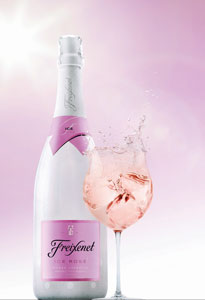 The new blend has been created from two of the most noble grape varieties - Garnacha and Pinot Noir. The Garnacha delivers a touch of spice and ripe red fruit, while Pinot Noir brings freshness, acidity and flavours of woodland fruits. Finally, the touch of Chardonnay makes the wine more intense, perfectly balancing the chill of the ice.
For a chance to taste the new rosé head down to Bestival this September where the stylish Freixenet van will be on hand serving up a selection of bubbly.  Adding a touch of sparkle to the festival experience, a full range of fizz will be on offer, ranging from the Cordon Negro to the Freixenet ICE and the newly launched Prosecco.
Available in Ocado or Waitrose for just £12.99, Freixenet's Ice Rosé will bring a touch of pink to the big day.