Alcohol has long been a feature of weddings, with planning what tipple to give after the ceremony to whether there will be a free bar or not, yet surprisingly at times, alcoholic gifts such as beer can be overlooked.
Started by Husband and Wife team - Will and Gill Sherwin, Best of British Beer in Staffordshire is all about the gift experience whilst maintaining a focus on providing excellent quality British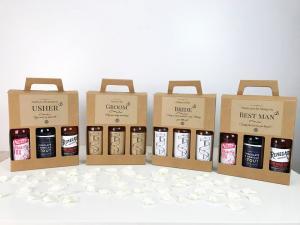 beer. Motivated by my own wedding planning- we decided it was time we added a wedding gift section to our website. Inspired by the current trend for craft products and rustic weddings and in keeping with all the emotion of a good old English wedding- the Best of British Wedding range was created.
Planning a wedding is such an exciting (and sometimes daunting) time. After all the initial excitement and as the wedding draws nearer, even though you may be the most organised bride or groom, until now you may not have considered your bridal party gifts. Rightly so, the planning has all been about you and your groom/bride- so what gifts should you consider for the people in the bridal party?
The Bridal Party
Bridal parties traditionally comprise of a Mother and Father of the Bride, Best man, Ushers, Bridesmaids and Mother & Father of the Groom. In England, it is tradition to honour the duties bestowed upon the bridal party by giving a gift during the ceremony. I had been to so many weddings and seen so many hip flasks and flowers given out that I felt like I wanted a break from the norm- and the fact that my Dad is a real ale drinker really got me thinking about beer gifts with a personal touch (no more whiskey or engraved glasses, please).
Father of the Bride
Quote on pack reads: "Today a bride, tomorrow a wife, always your little girl". If (like me) you want to tug at the heart strings (who doesn't love a good cry at a wedding?) then this is the perfect gift for the beer loving Dad. We've added a personalisation option to include the name of the bride and groom and the date of the wedding on white or craft labels, or you can select to have the standard branded beer bottles. Lots of choice, great beer.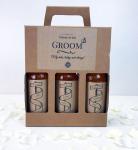 Father of the Groom
Men like to be men with less of the soppy stuff- but sometimes a little nod to how they've been a super Dad doesn't go amiss. Quote on the pack reads "My hero, today and always". As with the Father of the bride gifts you can personalise the bottles or keep it simple with branded bottles.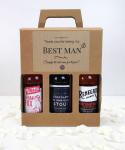 Best Man
Everyone always looks forward to the best-man speech at a wedding don't' they? A funny and witty affirmation of a great friendship with the groom. Quote on pack reads "Simply the best man for the job". Simple, to the point and a great way to say thank you. The same personalisation options apply.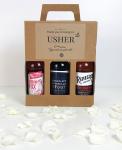 Usher
Less of a focus on major responsibilities and more 'bride or groom?' when showing people to their seats. This guy is usually a good friend, but hasn't made best-man status. Quote on pack reads "You scrub up quite well". A sarcastic yet touching gesture.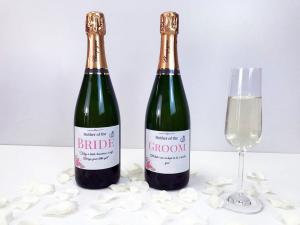 Mother of The Bride & Mother of the Groom
It has to be bubbles- and what beats a bottle of champers? Quote on Mother of the Bride bottle reads "Today a bride, tomorrow a wife, always your little girl". Quote on Mother of the Groom reads "All that I am or hope to be, I owe to you" (glass not included).
So if you have only weeks left until your wedding and the thought of bridal party gifts is waking you up at night, visit our website for more inspiration! http://www.bestofbritishbeer.co.uk/beer-gifts/by-occasion/wedding-gifts.html
Follow us on Twitter: @bob_beer
Instagram: bestofbritishbeer
By Lynne Fryer- Head of Marketing at Best of British Beer.
Event Date:
Tuesday, August 1, 2017 - 09:45