BY CESAR & NADIA RODEN
Poptails is a new, glamorous collection of fun alcoholic ice-lollies from Cesar and Nadia Roden. Combining the magic and romance of cocktails with a refreshingly creative spin, these delicious poptails are elegant, luxurious, sophisticated and playful. There's something a little mischievous about turning childhood treats into a strictly adult culinary experience, and this is what Poptails does best.
Discover new and original ways of pairing ice lollies with alcohol; whether you're stirring a fresh peach lolly through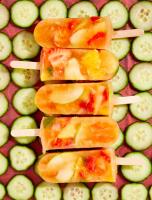 a flute of Prosecco to make a Bellini or twirling a lemon lolly hiding a cherry into whisky to create a whisky sour, there are innumerable exciting ways of rolling, swirling and dipping your way to dazzlingly intoxicating iced treats.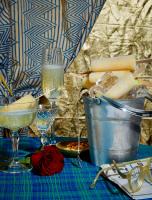 The book explains the nuts and bolts behind making the perfect poptail, including the tools and simple techniques required to make your own ice creations a success at home. From experimenting with different moulds to giving suggestions for quirky sticks and garnishes, there are tips and tricks to liven up your lollies and inject that extra kick of flavour.
Ranging from classic cocktails like a zesty Pink Negroni and delicate Orange & Blossom Mimosa, to the more experimental creamy Roasted Banana Rumsicles, bacon-garnished Chocolate Chilli Whisky Swizzles and the elegantly beautiful Flower Garden suspending edible petals in champagne, these show-stopping creations work perfectly for parties, romantic evenings or even just a lazy afternoon.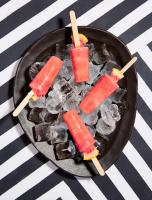 Poptails are ice-lollies for the discerning grown-up, and there are 50 deliciously fruity and indulgently sinful recipes to choose from. Using a kaleidoscope of fresh fruit, yoghurt, herbs, liquors, spices and spirits there is a signature poptail for everyone. Nadia and Cesar invite you into the world of Ice Kitchen Poptails... let the party begin!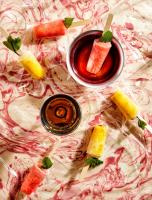 Ice Kitchen
Ice Kitchen was born when Nadia Roden, named 'The Ice Queen' by Oprah Winfrey, started serving ice-lollies from a cart in Bryant Park and on the High Line in New York in 2011, where she created a sensation. Her nephew Cesar then launched Ice Kitchen carts at the Real Food Market on the South Bank, which were an instant hit. Ice Kitchen has since gone from strength to strength and this year won four Great Taste Awards, becoming the only ice-lollies to do so. Cesar has appeared with Alan Sugar on the BBC ONE show as a budding entrepreneur and creative chef, and on James Martin's Home Comforts on BBC TWO.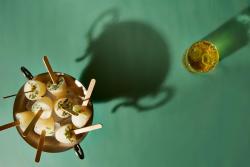 www.icekitchen.co.uk
Twitter: @TheIceKitchen / @QuadrilleFood
Cesar and Nadia Roden are available for interview
To arrange an interview or extract, or for further information, please contact Rebecca Smedley at Hardie Grant on
020 7601 7500 or email rebeccasmedley@hardiegrant.co.uk
Event Date:
Thursday, July 20, 2017 - 12:30