Just like wedding dresses and flowers change with the season, the catering at weddings can also be affected by the latest trends. Leading UK caterers H+J are expert at spotting the everchanging wishes of soon-to-be-wed couples, holding their weddings at top London venues such as Dartmouth House, 41 Portland Place and Ironmongers Hall.
One current trend is the disappearance of the traditional wedding cake. Couples are now opting for one-of-a-kind showstoppers that define the word unique and include options such as jewel encrusted cakes, piles of retro sweets and even rainbow layered gateaux! With the wedding cake taking centre stage in catering, H+J chefs have noticed an increase from couples for sweet treat substitutes in the form of delicate, colourful macaroons, served as an alternative option to a traditional fruit sponge as a key way of 'wowing' their guests.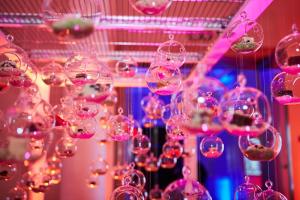 The Bride and Groom's special day is all about bringing families and friends together for a day to remember and what better way to kick-start the conversation than to choose sharing platters for your wedding breakfast? For H+J, 2017 has seen an increase in brides and grooms asking for sharing platters to be served as a substitute for a traditional three-course meal. Whether they are sweet or savoury, these platters bring a sense of excitement to the catering and have proven to be very successful ice-breakers. An example of sharing platters could be a British charcuterie board or a summer vegetable garden themed board.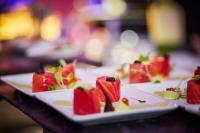 Wedding days are the perfect excuse for a treat, with the latest trend being to supply guests with a walk down memory lane with a grown-up twist on a traditional sweet shop. Individually designed sweet stations appeal to adults and children alike, with couples choosing their favourite treats to create a wedding pick 'n' mix that every guest can enjoy. H+J have sourced everything from traditional sweet shop favourites to whacky and unique combinations, such as giant jelly babies, that help represent the theme of a wedding.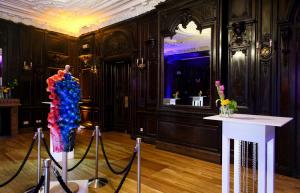 Seasonal weddings can bring different demands as well. The chefs at H+J get requests for light meat throughout the summer, such as fish and guinea fowl, with winter weddings bringing heavier, comfort food based ingredients such as beef and lamb. Newlyweds are becoming more aware of the ingredients used in their food as well, with H+J responding to trends for organic and locally sourced produce. 
So, whether it's a traditional day of bonding two families or a quirky celebration of your new life together, the show-stopping catering at your wedding is vital to the success of your big day and the trends chosen will help create a day to remember forever. 
Event Date:
Wednesday, June 28, 2017 - 10:15