Heavenly Necklaces are the leading suppliers of fake diamond jewellery to brides, royalty and celebrities the world over.
They are always delighted to advise personally on the jewellery for the big day and will happily enter into email correspondence to discuss all sorts of issues and ideas. More and more brides actually send them an image of 'the dress' , or even visit the team in their offices for personal advice, and the team at HN will reply speedily. 
More often than not HN's advice is 'less is more'. It is easy to overdo it, and the team usually suggests that too much jewellery over-complicates the look and detracts from the dress. If the dress is ornate and has a lot of detail it often works better to have no necklace at all; just some beautiful earrings to complete the look.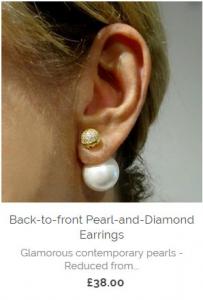 It is important, too, to properly gauge the theme of the wedding. A contemporary dress and modern style needs to be accessorised with the right jewellery. These back-to-front earrings are the answer.
Pearls always look wonderful on a bride. They brighten the complexion and eyes, and of course work so well with a white or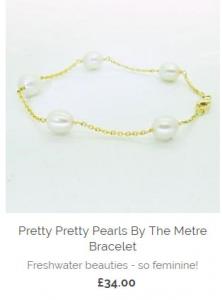 off-white dress. One Heavenly suggestion is is that an elaborate pair of 'pearl and diamond' earrings on the bride may be complemented by the flower girls wearing a more simple version – you certainly don't want them outshining the bride!
These earrings, as worn by HRH the Duchess of Cambridge at the Queen's Silver Jubilee celebrations, are from Heavenly Necklaces and cost £64
The 'pearls by the metre' bracelet , available in gold -or silver-plate, makes a fantastic gift for flower girls to be treasured for ever. This complements the matching necklace which looks wonderful on a bride.
Heavenly Necklaces jewellery may be viewed at www.heavenlynecklaces.com or by appointment on 0207 371 8268
Event Date:
Wednesday, June 28, 2017 - 12:00